How to view your golf prize points balance
Your username is your membership number that is displayed on the bottom left corner, under your photo, on your membership card (usually a 5 digit number). Your password will be given to you by the Golf Shop. If you have any issues logging in please contact the Golf Shop to get your password reset.
3. Go to 'my information' tab
If using a mobile device – select the 'view full site' option that is located at the bottom of the page in your browser or otherwise, select the same option in the navigation bar on the left.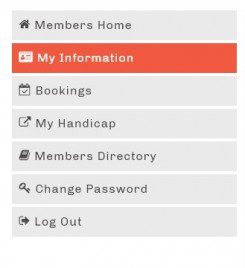 4. Scroll to the bottom of the page and select 'my points balance'
This will display the current Golf Prize Point balance on the card. (1 point = 1 cent).

For more information please contact the Pro Shop 4274 1159 or golfshop@portkemblagolfclub.com.au
Where can I spend my points?
Single cart hire, Merchandise, Golf Lessons, Snack Items, Social Rounds of Golf (Port Kembla Golf Club) & locker hire
Port Kembla Golf Club & Wests Illawarra
Artisan – Eatery, Bar, Lounge
The Craft – Café, Espresso, Bar